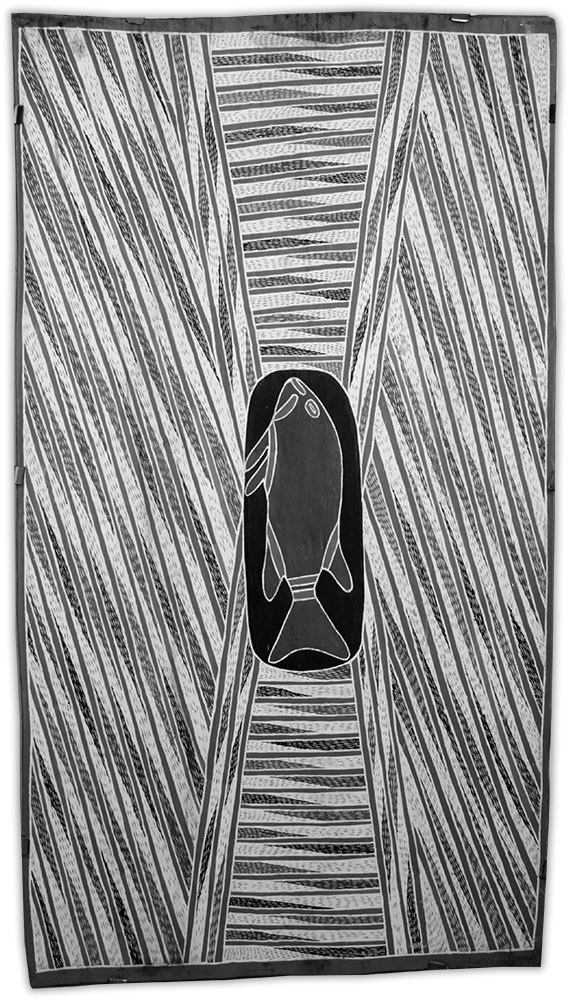 ARTIST: MILIRRPUM MARIKA BL. 69
GROUP: MIḺIWURRWURR
CLAN: RIRRATJIŊU
MOIETY: DHUWA
HOMELAND: YALAŊBARRA
TITLE: ŊAṈMARRAWUY
STORY ABOUT A LAND CALLED YALAŊBARRA AND A FISH
CALLED BAḺWAḺTJA
This is a message for you, my children, about Yalaŋbara, that I am going to tell you about, for you Rirratjiŋu family, for the Rirratjiŋu clan and Rirratjiŋu grandchildren, and for the children of Rirratjiŋu sons and daughters.
This is for you that I am going to tell a Yalaŋbara story about Djaŋ'kawu. That she Djaŋ'kawu travelled, from a place called Gaḏitjpirr.
A place called Gaḏitjpirr, the name of this realm is Muwalaŋgal.
The name that we usually use is, Yalaŋbara, the name is Yalaŋbara.
This message is for you, my children and for the children in the future. This is the message and the stories that I'm going to tell you… about Ŋaṉmarra (sacred mat). The name of the place became Ŋaṉmarrawuy.
And Ŋaṉmarra was put by the Djaŋ'kawu… there.
To that Ŋaṉmarra and it is called Ŋaṉmarrawuy, the rock, with plenty of fish. It is an island near Wapiḻina and Yalaŋbara, in between these places is Ŋaṉmarrawuy.
But when Djaŋ'kawu created this Ŋaṉmarra, the story is that she created a group of people called Matjarra, with this Ŋaṉmarra, Yaṉḏalyaṉḏal. She created Matjarra, Yaṉḏalyaṉḏal people of the mouth of Ŋaṉmarra. From the dilly bag of Ŋaṉmarra Muḏulŋuwuy.
Ŋaṉmarra is only a story, but there's a story that lays deep inside, for many other clans, this Ŋaṉmarra that the Djaŋ'kawu had made and created for.
From here the Djaŋ'kawu travelled, from Gaḏitjpiŋuru, Muwalaŋgal called Yalaŋbara and reached out to many other clans, of the Dhuwa moieties.
Dhuwa clans that reached right up to the Dhawiḻiŋu country, the place where the sun sets.
The name is only Djaŋ'kawu, and this is words of the Djaŋ'kawu and the story, her name Djaŋ'kawu went into the Land Rights case and with the Djaŋ'kawu's name, brought back our land, my children.
And this is your story for your children for later on in the future, that you will tell this to your children, for you and for your children and for your children's children and for your grandchildren. That you will pass this on.