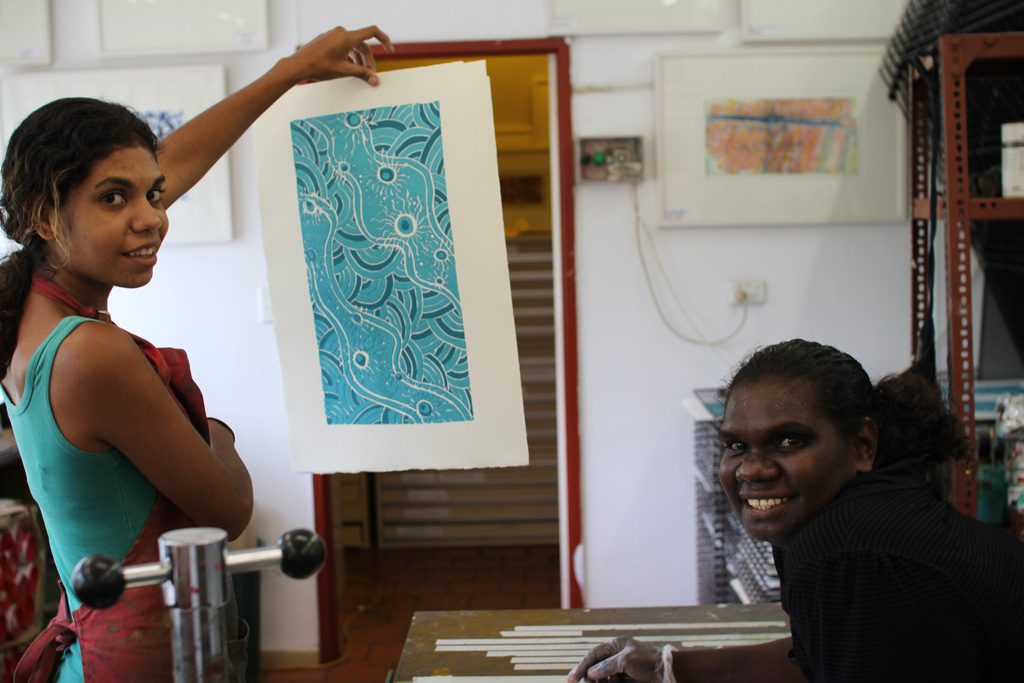 The print studio is staffed by Yolŋu printmakers alongside a studio coordinator. Past coordinators include Araluen Maymuru, Marrnyula Munuŋgurr and Dianne Blake. The position is currently held by Munuy'ŋu Marika.
Annie Studd
Originally from NZ but most recently Melbourne, Annie Studd joined the team at Buku-Larrŋgay Mulka alongside husband Kade McDonald in 2011. As the print space coordinator she facilitated projects and workshops which include the Yuta Project 2012, Seven Sisters 2012, Landmarks Project 2013, Gapan Gallery at Garma Festival in 2011, 2013 and 2014, Ganyu Gallery at Darwin Festival 2012, Melbourne Art Fair 2011 and master printmaker Paul Machnik exchange in 2013.
Marrnyula Munuŋgurr
Marrnyula Munuŋgurr is a senior printmaker and painter who began working for the Buku- Larrŋgay Mulka Centre in the 1980s. Marrnyula's art is held in a range of collections including the National Gallery of Australia and the Australian Museum. She won the Best Painting at the Barunga Festival Art Awards in 1994 and received an honourable mention in 2002 in the Michael Long Testimonial Art Award.
Ruby Alderton
Ruby Alderton is the daughter of Banduk Marika and the granddaughter of Mawalan#1 Marika. Most of her family are or have been known for their contribution to the reputation Yolŋu art's high regard. Ruby grew up locally as well as in Darwin and in Newcastle and has been exposed to western influences but her artwork remains in the traditional realm of Yolŋu art. She has interned at The Ownership Project, co-organised the Yuta Project, exhibited at the Garma Festival and Nomad Art, co-curated at the Chan Contemporary Artspace and is an award-winning filmmaker.
Paula Gumana
Paula Gumana is a young woman from Yirrkala who has been learning the craft of aluminium etchings, linocuts, screenprinting and zinc etchings since she started work in early 2013. All of her training has been directly on the job with each new edition.
Dhapanbal Yunupiŋu
Dhapanbal Yunupiŋu began work as a printmaker at Buku-Larrŋgay Mulka in 2009. She is a daughter of the renowned M. Yunupingu from Yothu Yindi fame. Her mother, Yalmay Marika, was one of the first Yolŋu to fully qualify as a teacher. In 1996 and 2005 Yalmay won a state government award for Teaching Excellence. From this pedigree, Dhapanbal is a practising artist focusing predominantly in the area of printmaking and has produced etchings, linocuts and screenprints of her own work as well as editioning the work of other Yolŋu artists.