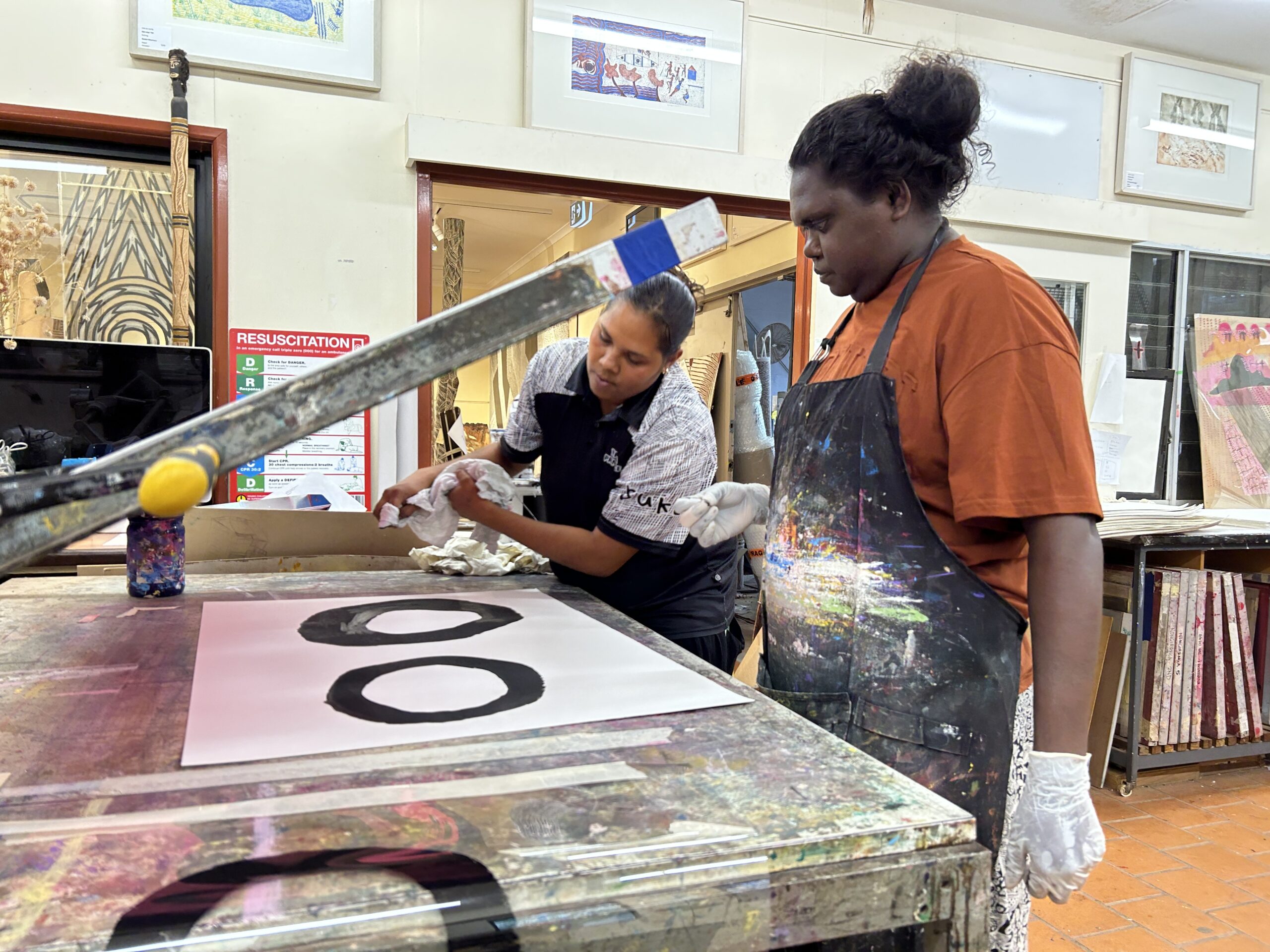 – Munuy'ŋu Marika & Bitharr #2 Maymuru working on a Screenprint, 2023
The print studio is staffed by Yolŋu printmakers alongside a studio coordinator. Past coordinators include Araluen Maymuru, Marrnyula Munuŋgurr and Dianne Blake. The position is currently held by Munuy'ŋu Marika.
Munuy'ŋu Marika
Munuy'ŋu is a Rirratjiŋu lady who was born and still lives in Yirrkala. In 2010 Munuy'ŋu was part of a printing workshop at Buku Larrnggay Mulka in collaboration with the Yambirrpa Youth Development Unit at Yirrkala School to provide training for young people not attending School. She went on to complete school maintaining a focus on print making within her studies, with a clear ambition to work in the arts, in particular Buku Larrŋgay Mulka centre and also as a TV presenter.
In 2016 Munuy'ŋu Marika became the Print Master for the Yirrkala Print Space and has since managed the studio and delivered some of the most successful Yirrkala Print Space exhibitions to date.
Munuy'ŋu leads the printing of etchings, linocuts and screenprints, for all the artists at Buku Larrŋgay Mulka wishing to put work to print.
As told by Munuy'ŋu upon starting at Buku Larrŋgay Mulka in 2010:
"I am a Yirrkala girl and I love printmaking especially mixing colours and looking at the design. I really enjoy talking to people and friends and telling them about Yirrkala. I have good rhythm and enjoy dancing. My mother Djalinda gives me support with my art".
Bitharr #2 Maymuru
Bitharr is a senior printmaker and arts worker at Buku Larrnggay as well as an artist. She started working at Buku-Larrnggay Mulka in early 2016 and has since developed her skills as a print maker, through participating in several workshops, both in the Yirrkala studio and abroad.
In June 2016 Bitharr participated in Sean Smith's printmaking workshop where she produced her first linocut work. Other workshops with Sean Smith have included etching techniques and screen printing.
In early 2017, Bitharr travelled to Castlemaine to assist in opening the Balnhdhurr – A Lasting Impression exhibition and to conduct its associated public programs.
Bitharr is a key representative of the art centre at art fairs and events Australia wide and in 2019 completed an arts worker extension training through ANKAAA (Association of Northern, Kimberley and Arnhem Aboriginal Artists). Bitharr continues to grow her skills and knowledge base across many aspects of Buku Larrnggay's operations.